Archive for the 'Photographs' Category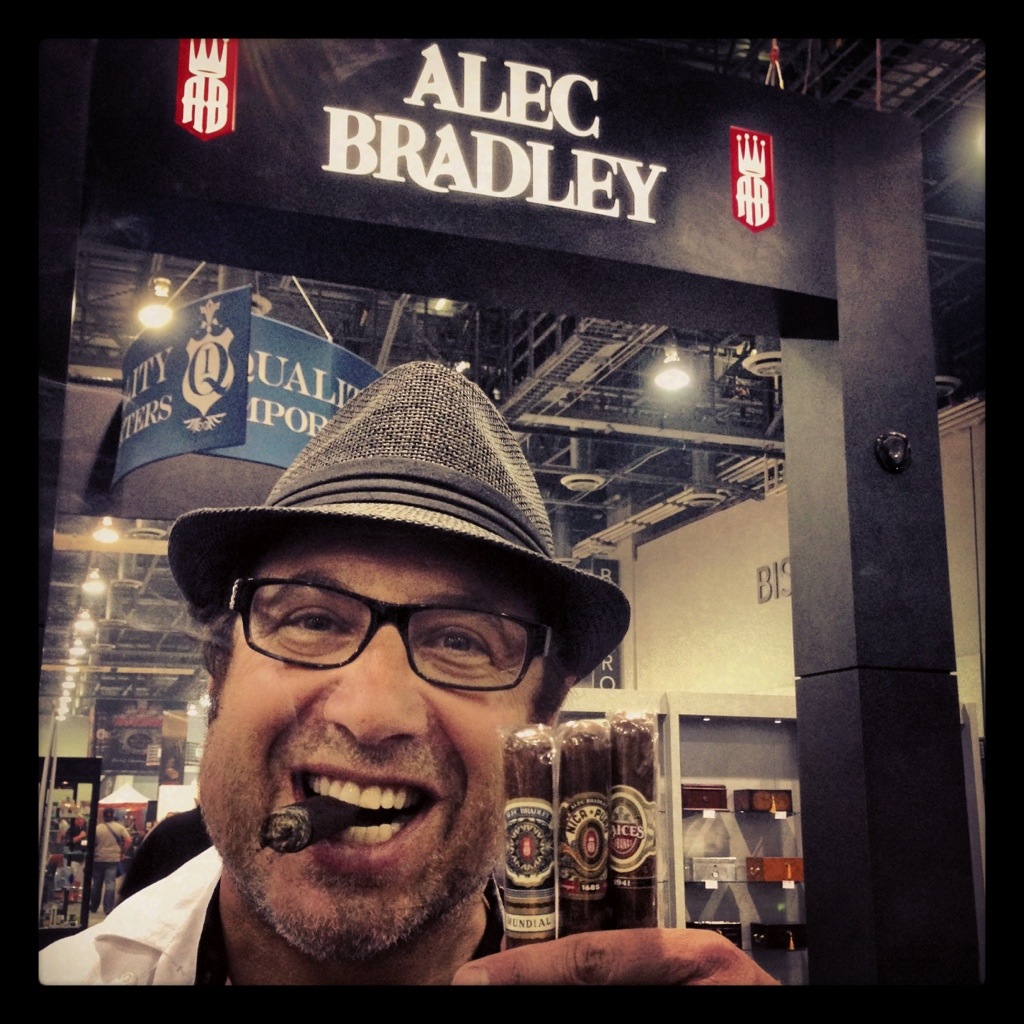 Here are the three new releases:
Nica Puro
Mundial
Raices Cubanas (1941)
I'll smoke 'em & share shortly!!
Read the rest of this entry »
I'm here for all of you!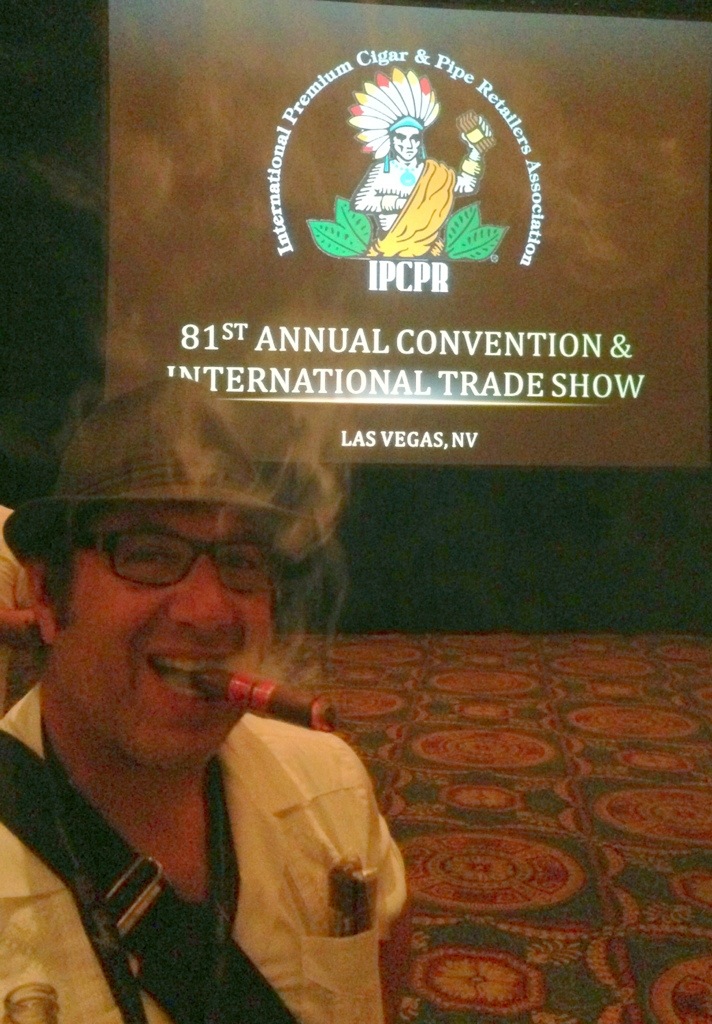 My ear is to the ground listening for all the latest and greatest that the premium rolled cigar industry has in store for us all for the next 12 months!
There are several "players", that have not shown up…some others are bigger while others are separating….General Cigar & Altadis companies are pulling their Boutique brands off on their own to show that they are more distinctive. Bravo boys, good move…it seems that the more things change, the more they stay the same. So many brands are coming out with 3-5 NEW lines at this show. Imagine that! 100+brands with NEW items! DO THAT MATH! That is well over 500+ new items are being shown for the very first time here @ the IPCPR 2013. I'll be honest and tell you, NO ONE person or publication will be able to review them all! WoW! Imagine being a retailer?? What should they do? What CAN they do? They certainly can't buy ALL the new items… Not even half… Not even a quarter??!!
Stay tuned to SEGALandCIGARS to find out this week MORE exciting news as the Trade Show officially kicks off Sunday July 14th at the Sands Convention Center here in hot & steamy LAS VEGAS.
Read the rest of this entry »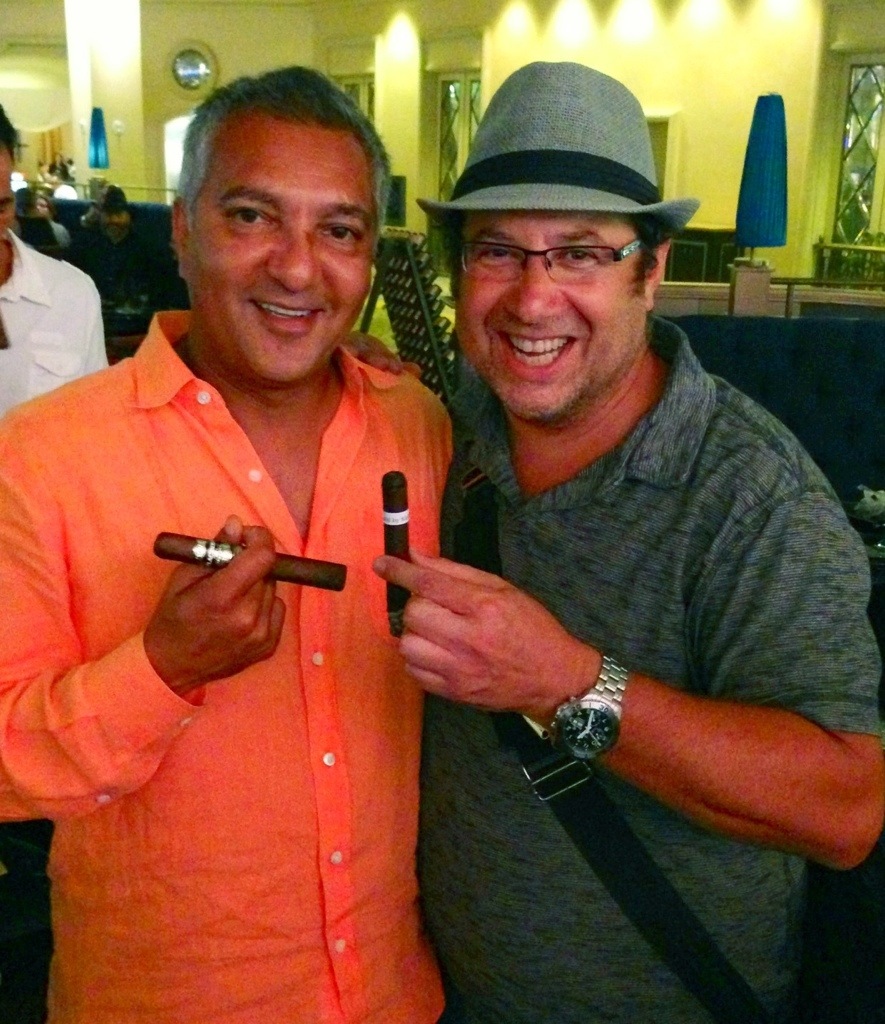 BOLD by NISH Patel is being first shown here in Las Vegas @ IPCPR 2013.
Thanks to Rocky Patel for sharing this new cigar with SEGALandCIGARS.
Rocky & I go back eight years….he loves to share ESPECIALLY new products that he is proud of.
And BOLD is one of those cigars.
Funny though, I was expecting it to be BOLD like THUNDER by Nimish; but lucky for me, it was not. It was yummy & delicious but it did not knock me over(that's not fun). BOLD is a well flavored rich spectrum cigar with lots of assorted flavor displays. A very different cigar from the more "milder" XEN by NISH. NISH has told me for years he personally appreciates a BOLD cigar, and now he has one….
Here's the inside scoop from Rocky Patel & the IPCPR 2013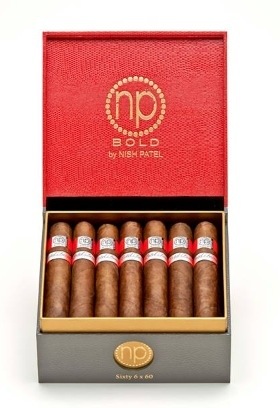 Coming soon to your local tobacconist.
CHECK BACK FREQUENTLY to
SEGALandCIGARS for updates on the international wholesale trade show for premium rolled cigars …
Read the rest of this entry »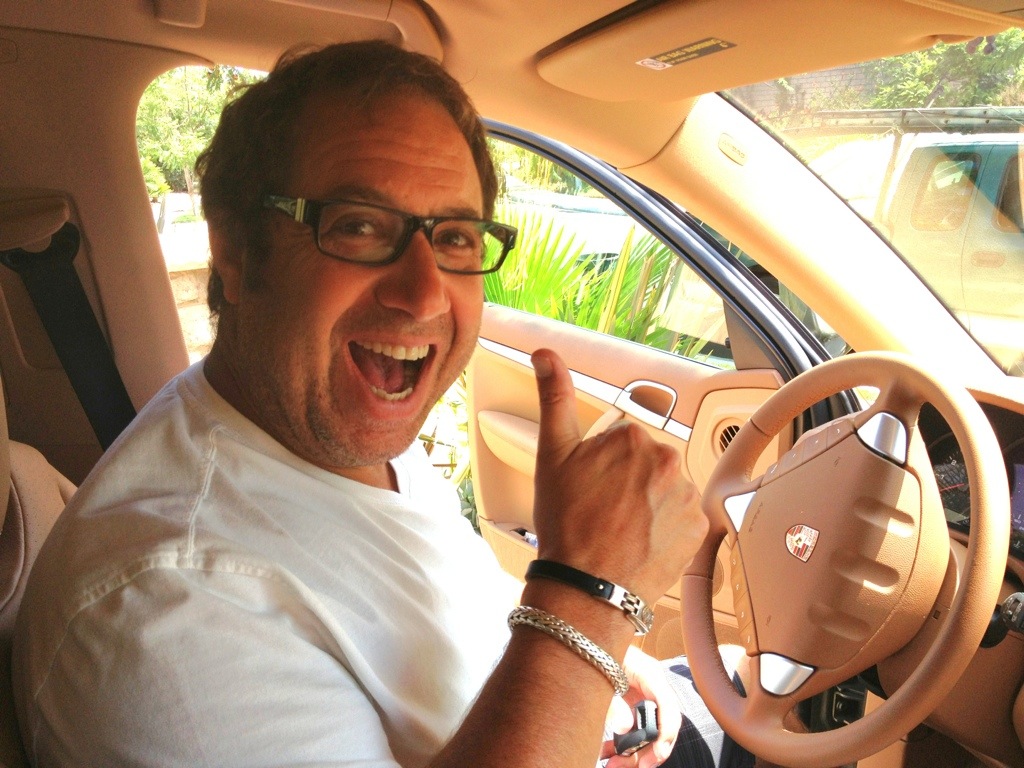 "All my bags are packed, and I'm ready to go"…
I've got my cigars packed for the IPCPR show,
Soon I'll be sharing all the new cigars for you all to know,
So please keep checking back here to say hello.
Read the rest of this entry »
My Dad, "BIG PHIL" is on the right, and my Grandpa Charlie is on the left. Unfortunately, they didn't live long enough for me to share a cigar with them. I was a late bloomer (I started smoking cigars at 40).
This year was the first year in 19 years I did not get to celebrate Father's Day with my kids. I am traveling thru Europe on a cigar mission and my son is in Australia for a cousin's bar mitzvah. I told both my kids, "Hakuna Matata", "No worries", we will celebrate Father's Day when we all back in town. Seems simple enough, right?
BUT, WHY do we only "remember" our Fathers on Father's Day? Hmmm…
Many times when I light up my cigar I only wish that my foreFATHER's (not four), were still around to sit down for a long chat and a smoke…I think about that often, not only on Father's Day…
I remember very well sitting in the back seat of my Dad's 911 Porsche (before they were convertibles). According to my memory, my dad smoked whenever he was in the car. So if I was in the backseat and the windows were up (maybe it was raining), I would be inhaling all the smoke as a 6-9 year old kid. But of course, he always opened a tiny vent or cracked the window ever so slightly to allow 50% of the smoke to escape…
FAST FORWARD…all of my 911's have been convertibles, therefore I would only smoke my cigars when the top is down. For all those who know me very well…my top is ALWAYS DOWN…rain…cold…super hot & sunny…the top stays down.
Today was a good day. Why? I got to smoke THREE big fat cigars while driving my car! I started the day with the Punch Limitada Suiza (Conde 109) that I got when we were with our friend Yannick in Basel, Switzerland. The Conde 109 is a roughly 90 minute smoke depending on the the environmental conditions (eg: windy convertible car driving very fast!). This PUNCH helped us get through the horrible traffic leaving Stockholm which was over an hour! Thank goodness for my PUNCH!
After exiting Stockholm and heading south, it was time for a snack and a chance to light up another "friend". This time I chose the Siglo VI, from the jar I got in Dusseldorf. The jar was fantastic as it has preserved the cigars integrity as far as construction AND humidity. The wrapper was so smooth and silky to the touch on my lips with the powerful chocolate notes that I like in the Cohibas. It burned extremely well despite my excessive speed and wind shear! When choosing the appropriate smoke for a convertible car drive, I always suggest something medium to full bodied and large ring gauge and long length.
The wind is blowing away the smoke quickly so you need to be able to taste the cigar, and you need length and girth to make the cigar last at least an hour so you don't have to keep relighting new cigars every 20-30 minutes…
What else do you need?
I am extremely lucky to have a girlfriend who travels with me who knows how to choose a cigar, prepare a cigar(punch or cut), light it properly and most importantly, while driving, will aid me in "fixing" the cigar…(needs a relight, adjusting torching due to canoeing,etc).
After lunch, it was time for some good earthy fun in the sun(or lack thereof) with a luscious MonteCristo Edmundo, that I also got in the jar in Switzerland that has protected the cigars during the whole trip. Thank goodness for that idea!
All in all, I was able to smoke a total of three cigars all while driving today on a 7-8 hour drive from Stockholm, Sweden to Malmo. Thank goodness for my Girlfriend who helped  me so many times….It is very difficult and downright dangerous to be "preparing" your cigars while driving +100 mph…
Oh yes, Father's Day. So, in conclusion, I only DREAM that roles could have been reversed and that my Dad would have had convertible 911's like me so I could have enjoyed breathing the fresh air while he enjoyed his cigars and more importantly, it would have been the best Father's Day gift EVER, if my Father could be with me today. HERE's to you Dad…This one's for you….I love you Dad…
Read the rest of this entry »
It's an absolutely magnificent day here in Copenhagen, Denmark. Unfortunately, today has not been a good day for me. Why you ask? Thanks for asking!
Because here it is, 5:30 on a beautiful day, and I still haven't smoked a cigar. So we came to Nyhavn, a colorful 17th century waterfront canal, filled with tourists and overpriced mediocre restaurants.
I saw a perfect waterfront table for sitting down and smoking at a nearby tourist restaurant, albeit without ashtrays on the tables. So I proceeded to ask the gentleman working there, "Pardon me, are we able to smoke here?" He looked back at me with a silly grin, saying, "Of course you can smoke here, we're outside!" Then I had to explain to him that in the United States, we are not free to smoke at outdoor restaurants, even though we are outside. OH WHAT A PLEASURE IT IS to be able to sit outside, enjoy a good meal, and smoke a cigar.
I sat down and I lit myself a Bolivar Short Belicoso Limitadas 2009. Out came my creamy fish soup and I realized I couldn't taste my cigar anymore! It's very mild and lacking full flavor. LIFE IS TOO SHORT TO BE SMOKING A CIGAR YOU ARE NOT THOROUGHLY ENJOYING! In accordance with my own rule, I proceeded to change to a Hoyo de Monterrey short Belicoso Limitada 2011. This cigar is more complex, more full bodied, rich and tasty.. A better accompaniment to my creamy fish soup on the harbor.
Read the rest of this entry »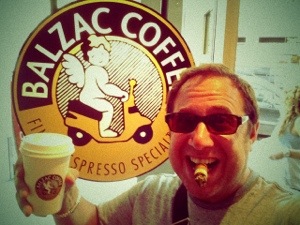 What a way to wake up…
The finest espresso made into a delicious cappuccino @ the famous BALZAC's Coffee & a yummy full bodied COHIBA SIGLO VI. We are walking around the lake sipping a cappuccino & smoking a near perfect cigar. We picked up these SIGLO VI's in a ceramic jar that was made in 2010 for Germany & Switzerland markets only. They keep the cigars well sealed, stored & protected from the elements.
Good luck trying to find one! They have become a rare find.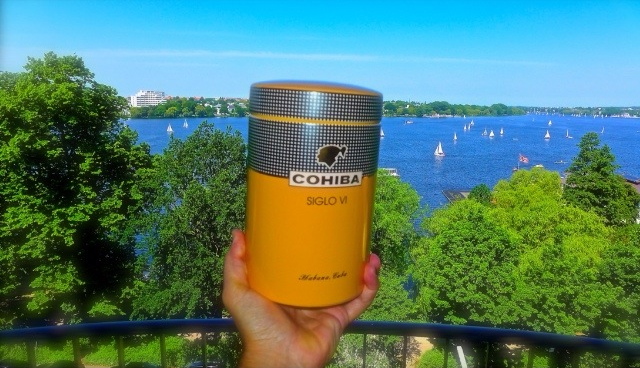 Read the rest of this entry »
What does a traveler do when visiting Hamburg, Germany?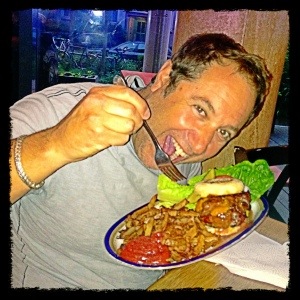 EAT A HAMBURGER!! Get it…..???
(@"The Bird"in the St. Pauli area)
No, but let's be serious for a moment please…Since I have a CIGAR BLOG, this should be about cigars!! So…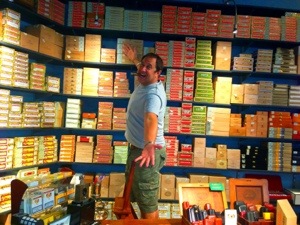 LET's talk C I G A R S !!!
Cuban Cigars, that is….
And boy oh boy , what a selection…
And who better to talk to about CUBAN CIGARS, but a Dusseldorfian himself(but now he's a "Hamburgerian") who has been to CUBA over 80 times in the past 20 years, Christophe Wolters of La Casa del Habano in Hamburg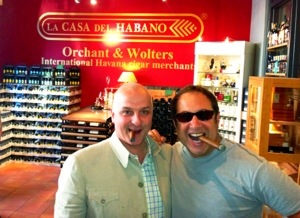 I met Christophe many years ago and we have stayed in close contact. He is one helluva super nice guy who truly knows CUBA & CUBAN CIGARS! He even helped translate one of the best books on Cuban Cigars.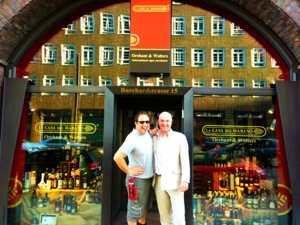 -Please, when in Germany, please stop by for a drink, and look around, and of course mention you read it here!
-When we were in the store, Christophe shared with us a Partagas seriesE no.2. -How unbelievably delicious.
-After dinner @ Rive (by the River), we ended the evening with an all time classic-Montecristo #2.

WHAT A FANTASTIC TIME IN HAMBURG with an equally fantastic guy. Please visit him digitally @
LCDH Hamburg
Now, I must bid Hamburg bye bye and I'm off onto another city….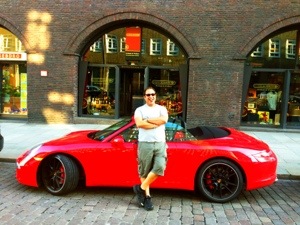 Read the rest of this entry »
It's 7pm on a Saturday night, you haven't eaten since lunch, the sun is setting, what does one do?
Grab some Dark rum over two cubes of ice, some 5 layer bean dip from Trader Joe's , a bag of tortilla chips and fire up a big fat Romeo Y Julieta Habano Wide Churchill. 5 1/8 x 55. It's not a strong cigar, so it really hits that magic sweet spot before dinner.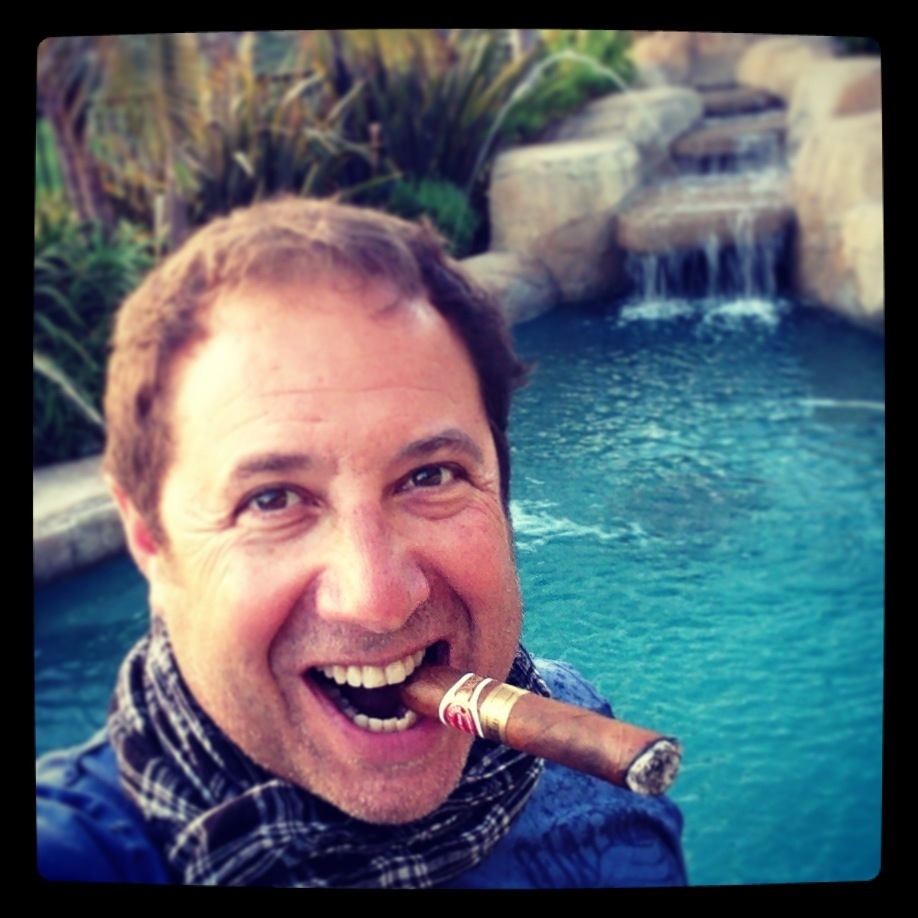 Sitting in my backyard watching the sun set over the California coastline somehow makes this perfect cigar …. better….
I really enjoy the wide girth of this WIDE Churchill over the narrower gage (47mm) traditional RyJ Churchill. As the sun drops and I exhale a plume of smoke into the foreground of the golden sky. This is how I picture heaven to be…. Perfection …..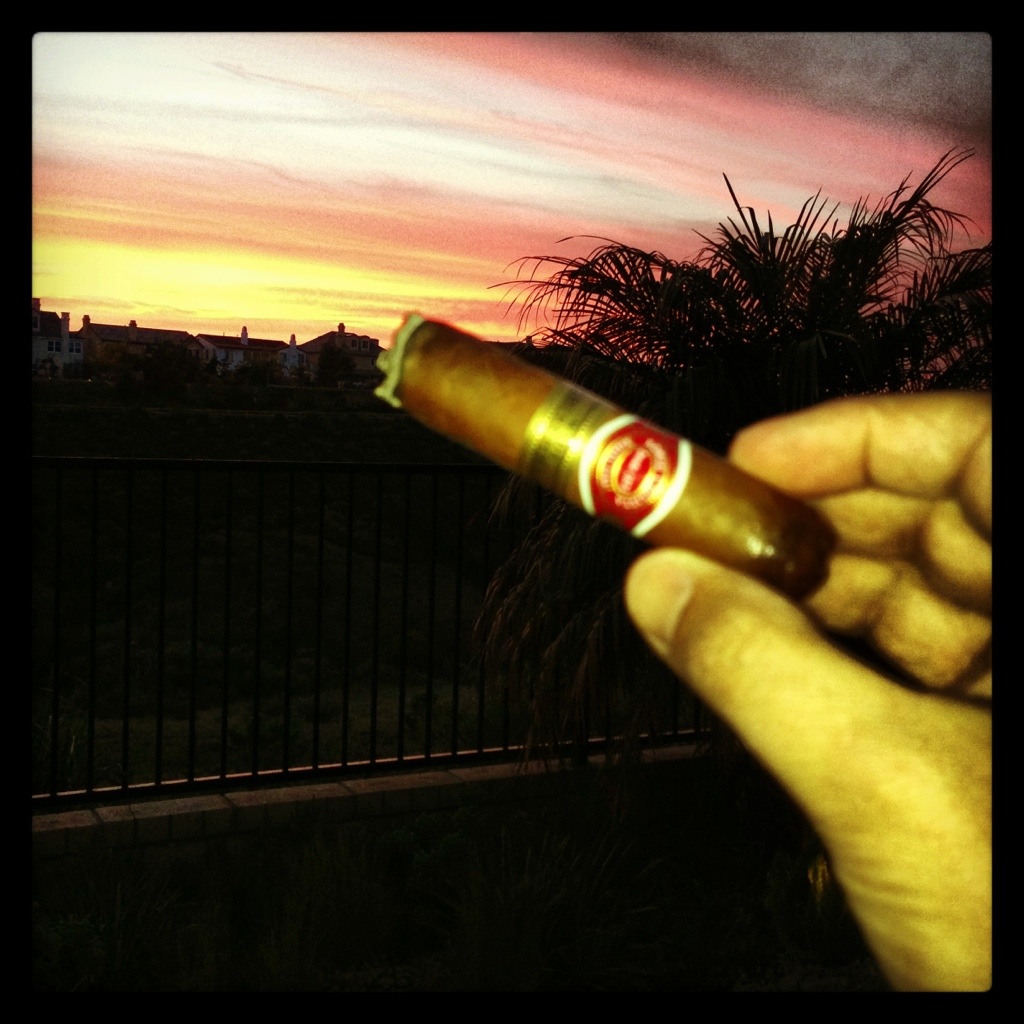 Read the rest of this entry »
I really enjoyed enjoyed smoking the Unreleased Double Edmundo Montecristo during the 2013 Habanos Festival last month in Havana. The two we smoked were slightly plugged. Very sad. The taste is very yummy & delicious. Leather hints with earth flavor undertones. It tastes very "Montecristo" style, the way I like it. If I didn't have to suck so much, I would enjoy it more… But there is something very cool to smoke a cigar that will not be available for another 8-10 months. I just hope they are better later…..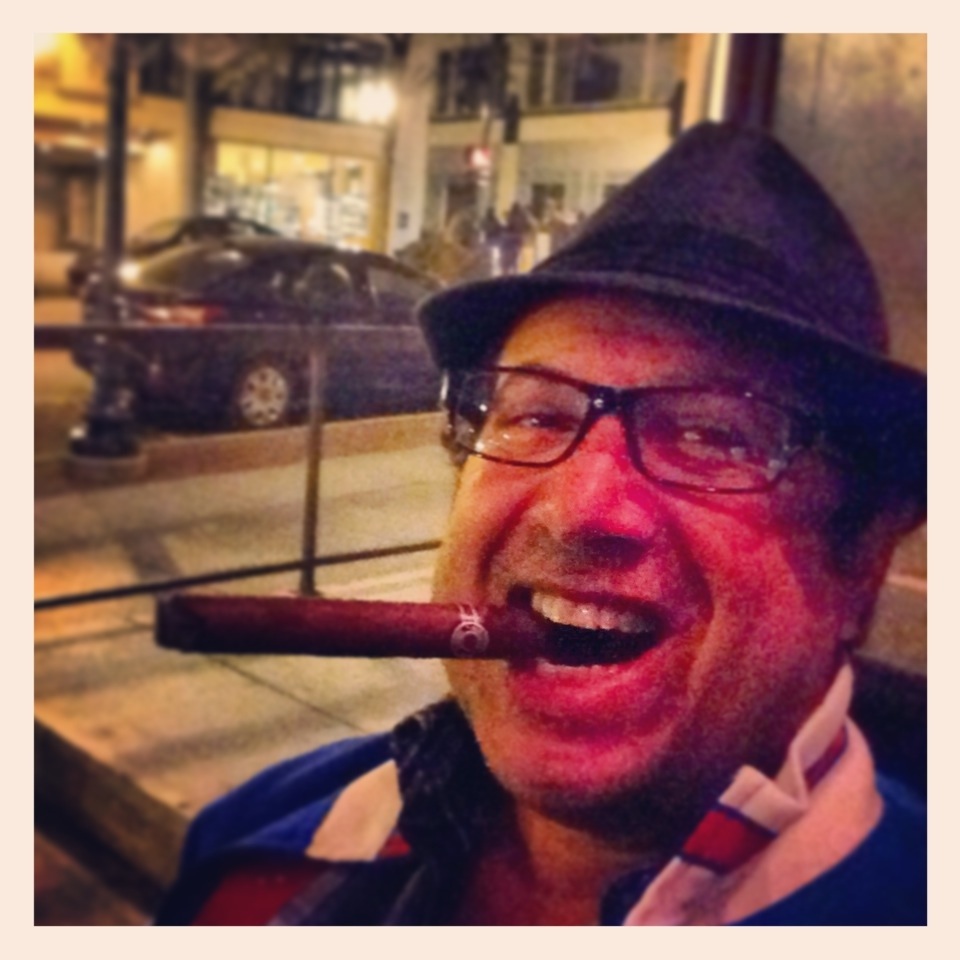 *Trying the New Unreleased Double Edmundo Montecristo*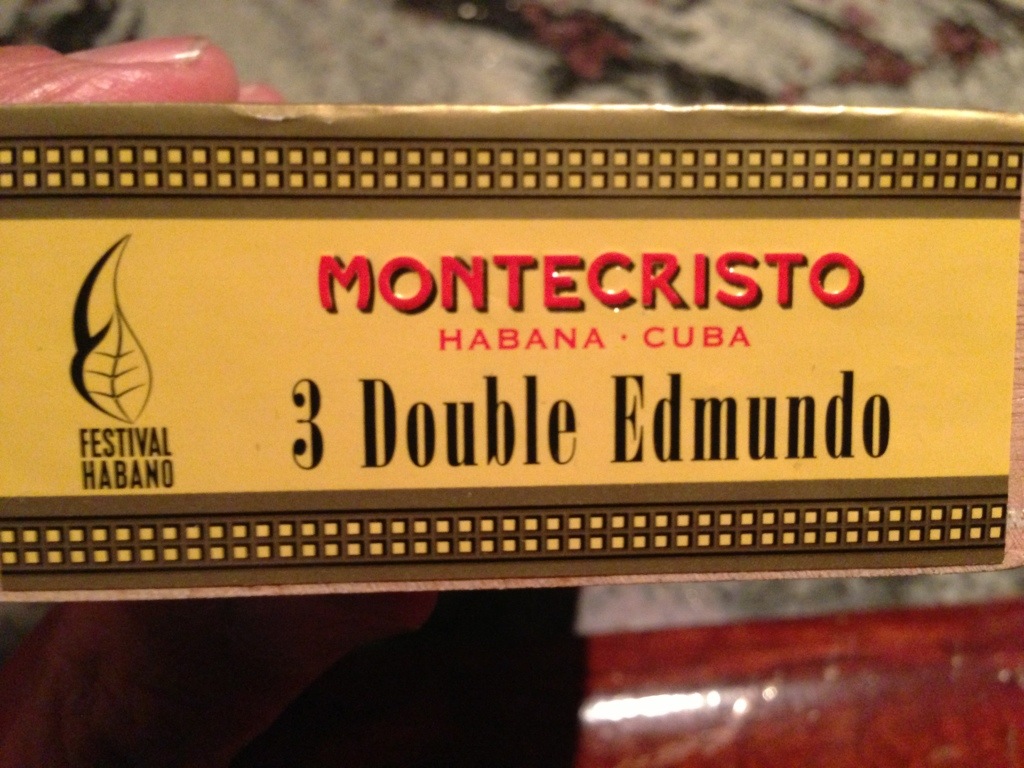 "Gift box of 3"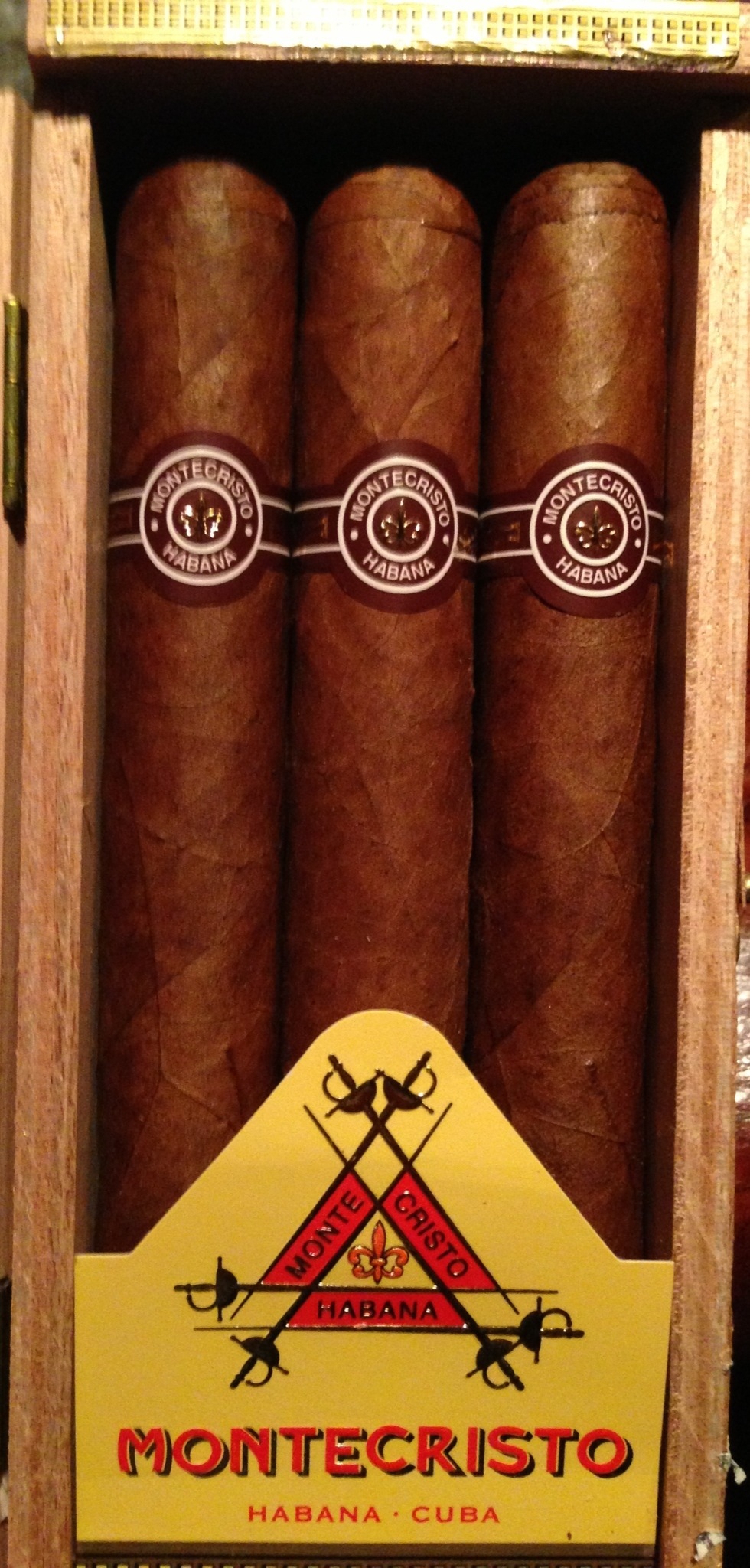 They are beautiful. Note the new fancy label to prevent counterfeiters …
Read the rest of this entry »