Archive for the 'Cigar Reviews' Category
DON'T FEED the ANIMAL!
Matt Booth is such a character.Who is interviewing who here? BAM! He's well known in the Cigar world as the creator of ROOM 101 Cigars produced and distributed by Davidoff. He likes to be the CHARACTER at Davidoff which has for ages has been a well heeled Gentlemen's company and cigar maker.By adding Matt Booth to the line up at Davidoff, it certainly brings them up-to-date and getting hip with the new generation of cigar smokers. Matt Booth's original claim to fame was a line of high-end sterling silver accessories and he parlayed that into an equally successful cigar brand, small, but powerful, and extremely well known…Matt Booth is a traveling man too so be on a look out for him at your local tobacconist soon. Here in the video, he talks to SEGALandCIGARS at the recent IPCPR wholesale trade show in Las Vegas about a few of his latest and great products. He has added to his sterling line of accessories to bring in the more affordable stainless steel collection- all hand made here in the good ole US of A.Look out for the Swill & Swank ceramic bow tie! He says,'Support the USA and support small businesses," plus two new lines of Cigars..Please watch and subscribe to our YouTube channel.
Read the rest of this entry »

Rocky Patel is a ROCK STAR in the cigar world. Everyone knows the name and everyone at the wholesale international trade show for premium cigars IPCPR 2013 wants to talk to Mr. Popular. How did I eventually catch him??? I don't know, but I did. After knowing Rocky personally for around eight years, I still had to wait for his many photo ops with loyal customers who were attending the show. Rocky Patel introduced five new lines at the show and I had him talk to me about two of them: RP Royale and the PLATINUM. I smoked them both and I really enjoyed the Platinum the best, but like Rocky said, this cigar is for the more experienced smoker and might be a "bit too much" for the occasional smoker. If you know and truly appreciate fine top quality cigars, keep your look out for the PLATINUM coming 4th quarter to a specially selected retailer near you. And listen to ROCKY who said "these cigars will be hard to find…"
Read the rest of this entry »

So much new and exciting things happening at ALEC BRADLEY. AB threw the biggest BASH for the IPCPR industry at the PALMS Hotel here in Las Vegas. The bar was open and the drinks were flowing and the DJ was mixing! What else? GOLDEN TICKET give aways! Whaaaaaaaat? That is right, Willy Wonka's Golden Ticket give away was to be found inside 10 wrapped up "CHOCOLATE BAR" that looked just like Willy Wonka's bar BUT, whats better than chocolate? How about THREE Alec Bradley Cigars….A night to remember and AB is a force to be reckoned with at the IPCPR.
Read the rest of this entry »
What does a traveler do when visiting Hamburg, Germany?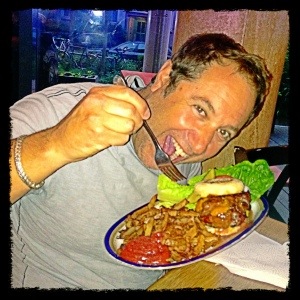 EAT A HAMBURGER!! Get it…..???
(@"The Bird"in the St. Pauli area)
No, but let's be serious for a moment please…Since I have a CIGAR BLOG, this should be about cigars!! So…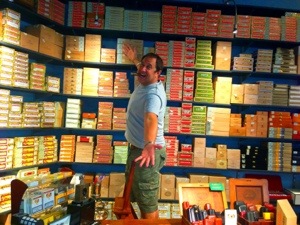 LET's talk C I G A R S !!!
Cuban Cigars, that is….
And boy oh boy , what a selection…
And who better to talk to about CUBAN CIGARS, but a Dusseldorfian himself(but now he's a "Hamburgerian") who has been to CUBA over 80 times in the past 20 years, Christophe Wolters of La Casa del Habano in Hamburg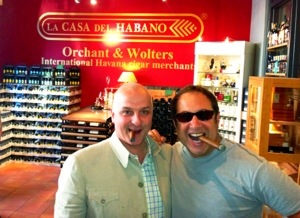 I met Christophe many years ago and we have stayed in close contact. He is one helluva super nice guy who truly knows CUBA & CUBAN CIGARS! He even helped translate one of the best books on Cuban Cigars.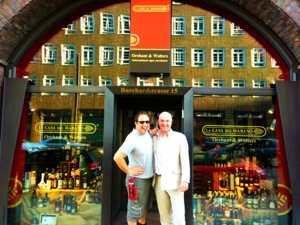 -Please, when in Germany, please stop by for a drink, and look around, and of course mention you read it here!
-When we were in the store, Christophe shared with us a Partagas seriesE no.2. -How unbelievably delicious.
-After dinner @ Rive (by the River), we ended the evening with an all time classic-Montecristo #2.

WHAT A FANTASTIC TIME IN HAMBURG with an equally fantastic guy. Please visit him digitally @
LCDH Hamburg
Now, I must bid Hamburg bye bye and I'm off onto another city….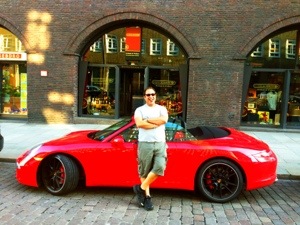 Read the rest of this entry »
SEGALandCIGARS went to LAS VEGAS for OUR Audience. The work we do for our fans… We surveyed the area and Hooked up with our Friends NISH & Rocky Patel & Sam Philips of Alec Bradley. WHAT's NEW Guys???
Read the rest of this entry »
SEGAL and CIGARS was in Las Vegas with the IPCPR and Rocky Patel! In Rocky's honor, check out our latest vid, all about the Rocky Patel 15th Anniversary cigar. A fantastic smoke, indeed.
Cigar Aficionado gives the Rocky Patel 15th Anniversary Corona Gorda a rating of 88. This cigar  is 6 inches long with a ring gauge of 46.
Average price for this stellar smoke is around $8.99 per stick; although price may vary depending on your state.
Read the rest of this entry »